Watch our words presents several trainings each year to the public and to groups. For more information about upcoming trainings, or to request a training in your area, contact Sarah Buluran
Speaker's Bureau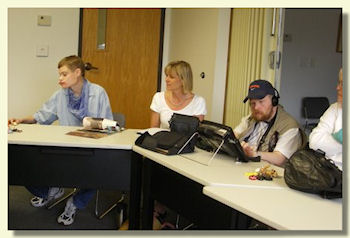 WOW members are experienced presenters on a variety of life and disability topics.
Life through our eyes

Classroom success

Developing talents

Employment

Including people with disabilities in your organization

Using assistive technology more effectively

Many more
Please contact Sarah Buluran to tell her of your group's needs
---
Colorado Developmental Disabilities Council Forum
August 30, 2010 in Fort Collins, CO
Watch Our Words (WOW), one of the Council's current grantees, gave a presentation to about 20 people at the Council Forum in Ft. Collins. WOW members spoke of the value of the group's monthly meetings and regular trainings. Many attendees had questions on communication for themselves or others.
Autism Society of

Boulder County Lecture Series
Debby McBride, MS, CCC-SLP & Mike Hoover of Watch Our Words Colorado

(WOW) presented on Augmentative Communication: Communication Through

Technology at January's ASBC lecture series.

Mike described developing communication with Debby during their years together in Texas, then the giant leap forward after utilizing Facilitated Communication and augmentative devices in the early 1990's.

Debby presented strategies and tools which facilitate and promote communication with a variety of individuals in a variety of situations. She demonstrated different devices and gave information on how to learn more about device use. Debby assesses individuals at Boulder Community Hospital's Mapleton Center weekly.